Hidden Features on Google that you might Not have Discovered Yet
For most people, the preferred search engine is Google.


How to write a cover letter? Ask Google.
Is Bernie Sanders a vegan? Ask Google.
Where in fact is Waldo? Ask google.
Google has become so integrated into our daily lives that it solves day to day problems for us and answers questions that we don't readily know the answers too. There is actually more to Google than meets the eye though.
Within Google there is a hidden program...noo not really; sorry to get all of you conspiracy theorists out there worked up. However, there are some cool knick-knacks and easter eggs that the Google search engine has to offer if you know where to look.
Tic Tac Toe, Solitaire, and Pacman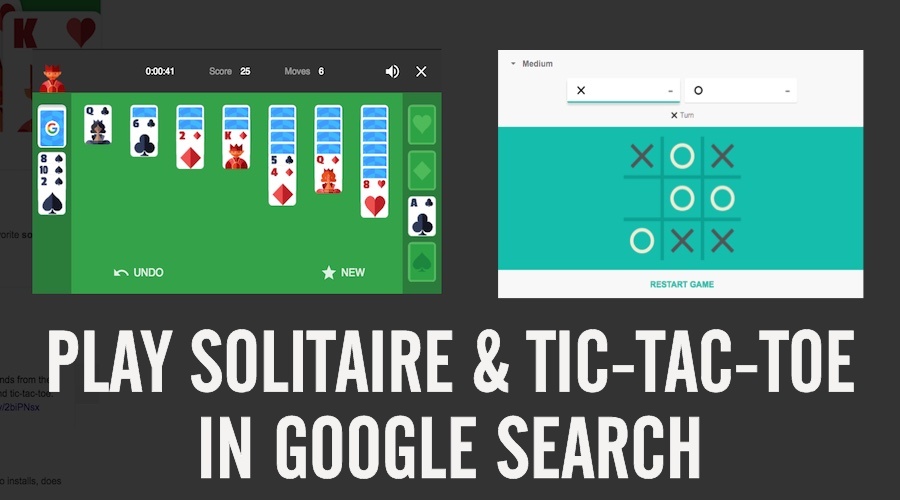 The Google search engine has a few games built in that allow you to mess around when you should be doing studying at the library (or work...).
If you search Tic Tac Toe or Solitaire, you can play either game! In fact, you can even choose different levels of difficulty for Tic Tac toe to make it more challenging.
The old arcade classic Pacman is also available to play if you search "Pacman" in the Google search bar.
Games of Chance


Do you feel lucky? Well do you Punk?...feel...lucky? Hopefully, you do because Google offers you a few games of chance to settle who has to go pick up the pizza.
If you type in "Roll a die" or "Flip a coin" into the Google search bar, you will be brought to a page that allows you to do one or the other.
Also, if you type "Once in a blue moon" into the search, you will get the mathematical probability of something happening 'Once in a blue moon.'
Animal Sounds and Fun Facts


For those of us who don't get the sounds of the country because we live in sprawling urban developments, Google offers a remedy.
If you type in "what sound a pig makes?" into the search, you will get a list of various farm animals to click on to hear what noises they make. Not convincing enough? Well it's really meant for the kids, but you can't tell me that you haven't wondered what a llama sounds like!!
If animal noises aren't your thing, though, why not use Google to help add more information to the "Random Knowledge" section of your brain?
Search "Fun Facts" and Google will give you a Snapple-like random fact. If you keep hitting refresh, you will get new ones!
Movie and TV Show References


Movie and TV buffs don't worry, Google has not forgotten about you. If you type in "What is the meaning of life?" into the search, you will get a calculator that reads 42, an homage to the Hitchhikers Guide to the Galaxy book/movie.
For Seinfeld fans, if you type "Festivus" into the search engine, you will receive a description of the festival as it was portrayed in the hit TV show. Finally, possibly the funniest little Easter Egg in reference to movies is the Kevin Bacon Number.
If you search any actor's name and add Kevin Bacon Number to the end of the search, you will receive the degrees of separation between them and Kevin Bacon. For example, Tom Hanks is 1 because he and Kevin Bacon starred in Apollo 13 together.
Liam Neeson is 2 because he starred in Chronicles of Narnia with James McAvoy, who starred in X-Men: First Class with Kevin Bacon. Anyways, I hope you enjoy that as much as I have been!!
Nintendo References
In addition to Movie and TV show Easter Eggs within Google, there is also some stuff for gamers like us to appreciate. If you search "Super Mario Bros" there is a "?" box (just like the ones from the game) on the right-hand side of the screen that appears.
If you click this box coins will pop out and you will hear that all too familiar sound! In the same sort of way, if you type in "Sonic the hedgehog" the character will appear on the right side of the screen.
Keep clicking him until he evolves into SuperSonic (not the fast food chain). The last little Nintendo reference easter egg that Google has pays homage to Starfox 64.
If you type in "do a barrel roll" the screen will do a barrel roll just like Starfox's ship in the popular franchise.
Google of the Past
Now to some of you this might not seem super interesting, but as a technology AND history guy, I get a kick out of it.
If you type in "Retro Google 1998" and search it in the Google search bar, your google experience will cosmetically change to how it used to be back in 1998. Back when Google wasn't the top dog and they were competing with search engines like Ask Jeeves.
(A little Tidbit about Ask Jeeves: I was forced to use this search engine in grade school, I'm assuming because it was totally useless. We had to use it to research our papers, any sources used from Google were not credited.
To this day, I do not wish this punishment on my worst of enemies.)
Musical Help


No, this easter egg is not actually going to make you into a musician. However, if you are already a musician, Google offers a cool service to help you keep a rhythm while you are creating a symphonic masterpiece.
If you type "Metronome" into the google search, you will get exactly that. It should help with keeping your tune coherent or at the very least make sure you are not singing out of cue.


Have other Unknown Easter Eggs? Share with us in the comments below!
Matt Lettieri - Gamertag: ShockerMPH



Customer Engagement Warrior


Matthew is an avid sports fan and videogamer and currently plays Battlefield 1, Gears of War 4, Rocket League, and FiFa 17.